If you're having issues registering your lock or connecting to wifi please see our Troubleshooting and Best Practices Support Article or Contact Support.
Unlike your phone or laptop, the lock doesn't have a screen that can display what networks it sees nor does it have a keyboard to enter the password. So instead, we need to use your smartphone or laptop to do the job.
The lock produces a network signal just like a router. Once you connect to this lock network, the lock will force the browser on your phone to open and display a web page with the network the lock sees. Then, you can select the desired network and enter its password.
Instructions available for print or download: WiFi Connection Guide - PDF
Let's get Connected! Follow the steps below to get your lock online and registered.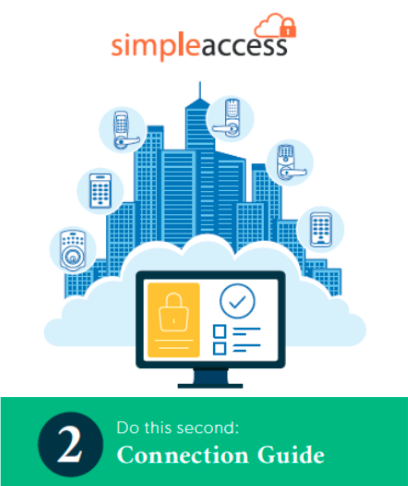 Step 1. Connect your lock to Wi-Fi
After installing batteries, your lock creates a Wi-Fi network for a few minutes. Open the Wi-Fi settings on your smartphone or laptop. Find and connect to the SimpleAccess network. It will be named SimpleAccess, followed by the lock's MAC address.
Quick Tip:
Not seeing the SimpleAccess network?
Your lock broadcasts a temporary network that will expire after 10 minutes. To rebroadcast the network, simply remove and reinsert your lock's batteries.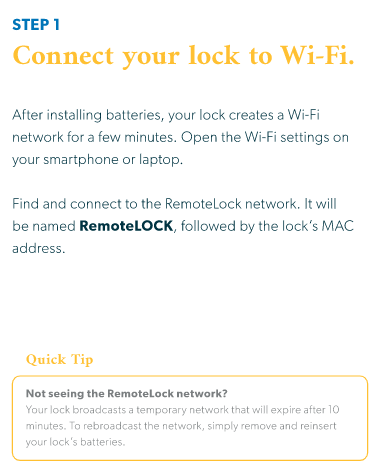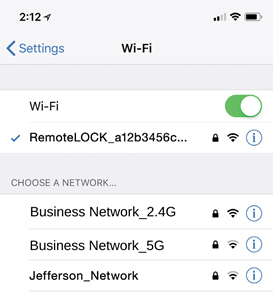 Step 2. Choose your network
Once connected to the lock's network, you will be presented with a list of available Wi-Fi networks.
Select the Wi-Fi network to which you want to connect your lock. You will need to know the password for that network.
Quick Tip:
If you were not automatically directed to a list of available Wi-Fi networks, you can do so manually by typing 192.168.0.1 into your web browser's address bar.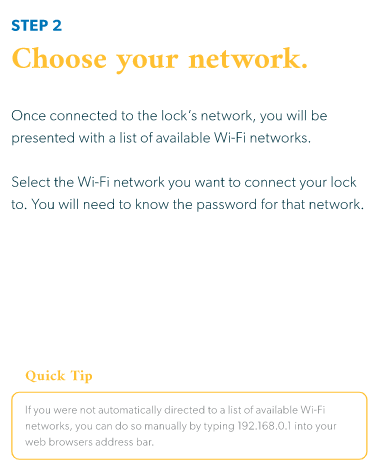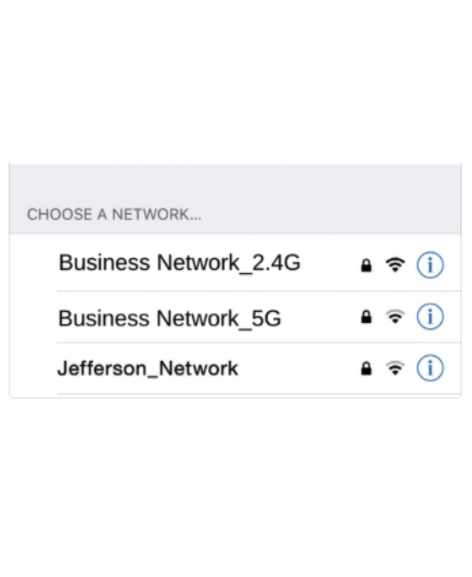 Step 3. Enter your credentials
After you've selected the network, enter your password and select Connect.
When your lock is connected, you'll see a success message and hear the lock beep twice.
If you hear 2 beeps on your lock, but do not see the "Connection Complete" message, your lock has still successfully connected to your network.
Quick Tip:
Please note: you must be within 3 feet of the lock to perform this connection. If you have any trouble with this step, you can find troubleshooting tips at https://support.simpleaccess.com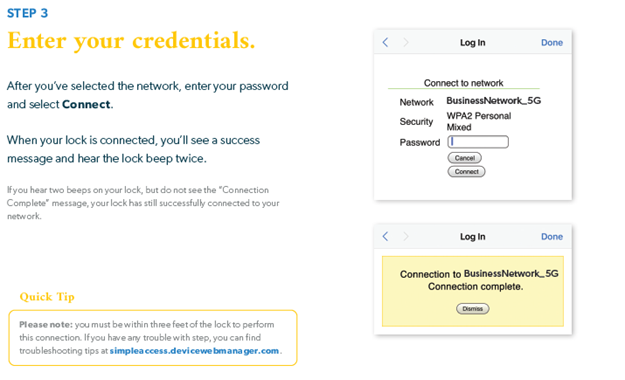 Step 4. Create an account
To create your account, download the SimpleAccess app to your smartphone or use your web browser to go to SimpleAccess
Step 5. Choose your plan
After creating an account, you'll be prompted to choose your plan. SimpleAccess offers plans based on how you will be using your lock.
Pick the plan that's right for you; you can change your plan at any time. Once you pick a plan, you'll be asked to enter your credit card info.

Step 6. Add your new device
If registering by smartphone, select the Add Device icon on the main screen. This allows you to scan the QR Code on the lock packaging to input the serial number.
If registering via the web application, go to the Devices section and select Register Device. You will be prompted to enter a name, location, and serial number.
The serial number and model number can be found on the back of the lock or on the lock packaging.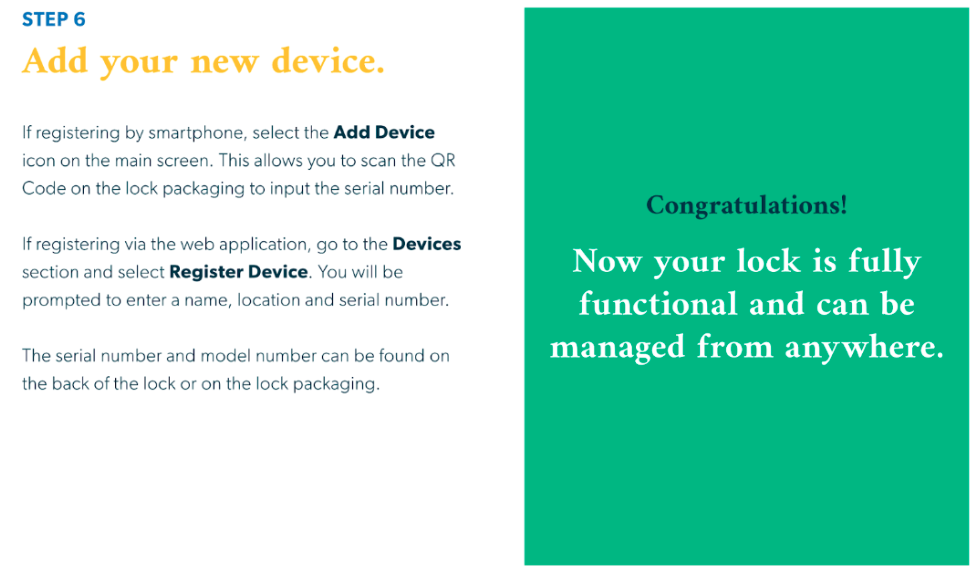 Lock Heartbeats and Battery Life:
Your lock connects to the internet using Wi-Fi. In order to conserve battery usage, the lock's Wi-Fi radio is put to sleep for periods of time.
By default, the radio wakes up every hour and connects to the internet to see if new user codes or other commands are pending. This "heartbeat" interval can be shortened or lengthened from the lock's settings page. A longer heartbeat interval leads to longer battery life.
The lock will also connect to the internet every time the keypad is pressed. This way the lock events are reported in real-time. When the lock connects to the internet, it stays connected for about 10 seconds and then returns to sleep mode.
To test commands sent from the mobile or web app to the lock, send the command (e.g. Add user code or lock/unlock), then press any button to wake the lock.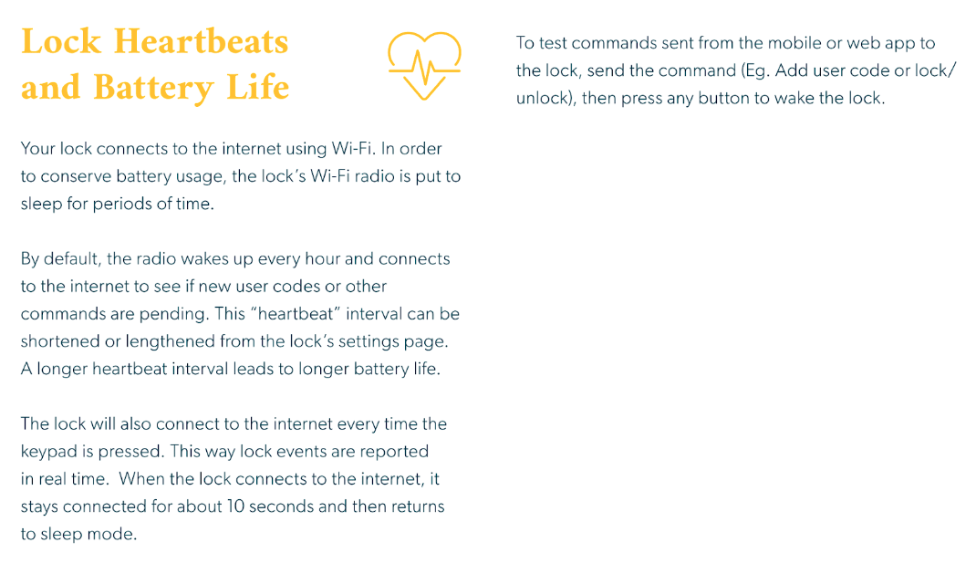 Additional Instructions, Information, and Images Below.
Step 1: Connect to Access Point
**PLEASE NOTE** You must be within 3 feet of the lock to perform this connection.
After installing batteries in your SimpleAccess lock, it will produce a network for 8 minutes. The network name of your lock will start with "RemoteLOCK-", followed by its Mac ID.
Go to Settings > Wi-Fi, and make sure Wi-Fi is turned on.
Select the network starting with "RemoteLOCK-"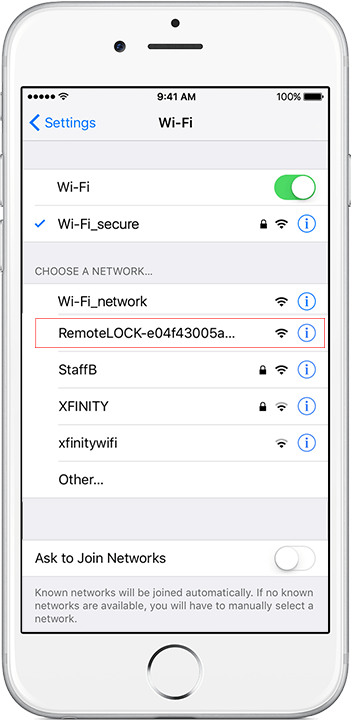 Step 2: Open Network Selection View
PLEASE NOTE:
Apple frequently makes iOS updates and sometimes tey trigger the following alert during provisioning:
"Error Opening Page" Hotspot login cannot open the page because it cannot redirect to locations starting with "imda:"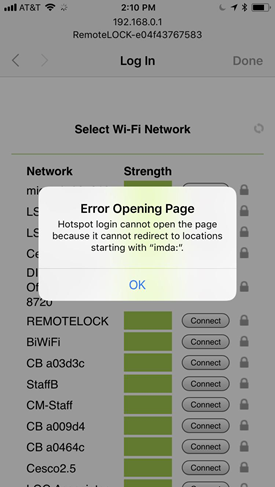 If you encounter this error, simply press OK and then proceed with the rest of the process as normal. If you are unable to get past this error, you can go to a mobile browser and enter 192.168.0.1 in the address bar as described in the note at the bottom of this step.
Once the lock's network is selected in Step 1 above, you should be automatically redirected to the Network Selection page on the lock.
Note: If you are not redirected automatically, open up a browser and enter 192.168.0.1 in the address line and hit enter.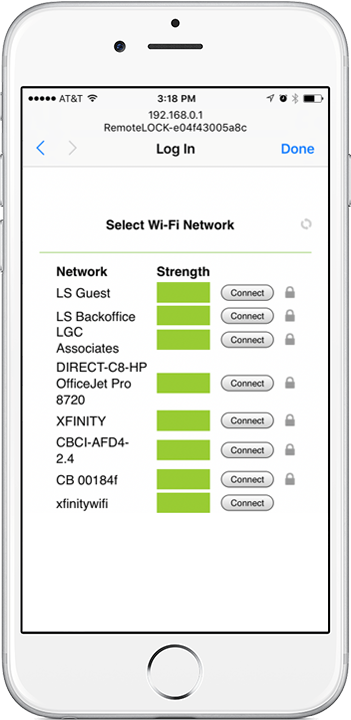 *Note: you will not see the same list of Network names above, this is just an example.
Step 3: Select Network
Click on the "Connect" button next to the network you would like your lock to connect to.
Your wifi network needs to be 2.4GHz. Our locks will not operate on 5GHz networks.
Step 4: Enter Password
Enter the password for your router. If you are not positive what your password is, please test the password on your phone or laptop connection first by forgetting your network and re-entering your password.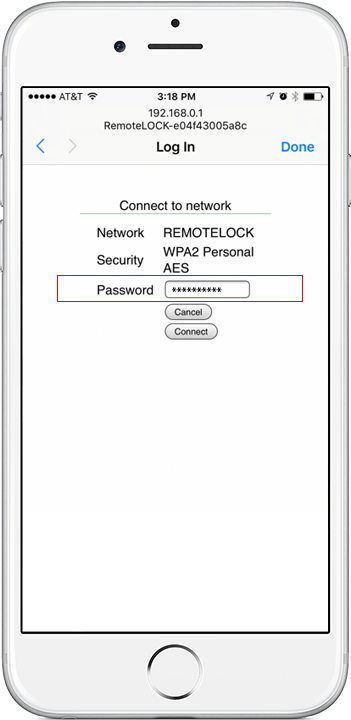 Step 5: Click Connect
Click on the Connect button. At this point, the lock will attempt to connect with your router. If successful, you will hear the lock beep twice and the lights on the keypad with flicker.

*Note: Sometimes the "Connection complete" message above will not be displayed as the phone will switch off of the lock's network before this message can be displayed. This is not a problem. As long as you hear the lock beep twice, the lock is connected.
Add Lock to Your Account
If you have not yet created an account with the Connect App to control your lock, create one now here.
Troubleshooting
Problem: Serial number has already been registered error
Solution: If you receive this error during registration, please contact support by emailing support@simpleaccess.com and provide a screenshot, screengrab, or image of the MacID that is being beaconed from the lock.
To provide a screenshot of the MacID, go to your phone or computers settings tab > WiFi tab > and make sure WiFi is turned on.
Next, you'll identify the network being beaconed by the lock. The network will start with "RemoteLOCK-", followed by the Mac ID and will look something like this: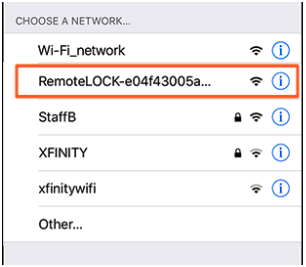 Problem: "serial number is invalid" error during the registration process.
Solution: Please connect your lock to wifi before attempting to register in the portal. You will need to install and connect your lock to WiFi before registering it in the portal.
Problem: I don't see a network starting with RemoteLock-XXXX when I view available networks.
Solution: temporarily pull a battery from the lock. This will power cycle the lock and broadcast the network for another 8 minutes. If you still don't see a network, enter the following on the keypad: 123456, 320, #.
TIP: Make sure there are no network restrictions that might prevent the lock from connecting.
TIP: If you get an error message: "The Wi-Fi network "Remotelock-6c0b84XXXX could not be joined." Remove a battery, wait 10 seconds and then put the battery back in, now try connecting again. The network should broadcast again after this power cycle.
TIP: There are 3 types of Account plans: Basic, Premium & Pro. Each offers additional options. You can always upgrade your account later. Once you have chosen an account plan, you will enter your credit card details. After registering multiple locks in the portal, the subscription will update automatically. Additional information is available in our Pricing and Billing articles.
TIP: The serial number associated with your lock contains zeros, not the letter O. If you forgot to take note of the serial number, it is included as a sticker on the box and is printed on the reverse side of the keypad or behind the battery plate.
If you're having issues registering your lock or connecting to wifi please see our Troubleshooting and Best Practices Support Article or Contact Support.