Members & Roles allow account owners to provide additional users the ability to manage various aspects of their account and specified devices.
Content:
Select Members & Roles (formerly called Permissions) from the drop-down in the upper right-hand corner.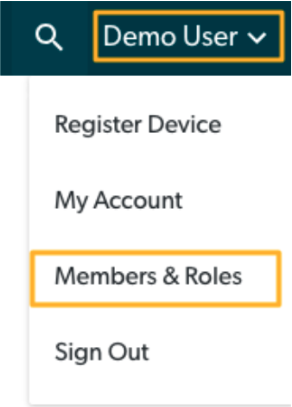 From the Members tab, you'll see a list of current members including their name, assigned role, and email address. You'll be able to edit the member's Current Device Permissions and add device permissions by clicking the pencil icon, or delete the member by selecting the trash icon.

In the left menu, you will see a "Pending Invitations" tab. All invitations will be included as pending until they are accepted by the member and an account is created. The invitations will show the email address you sent the invite to, the role you have given them, as well as the date the invitation expires. Click the trash can icon to the right to delete the invitation.

Invite Member
Select "Invite Member" to add a new account member's email, assign them a role, and choose which devices to allow permission.
After selecting Invite Member you'll land on the Using Shared Account and Using Shared Device page.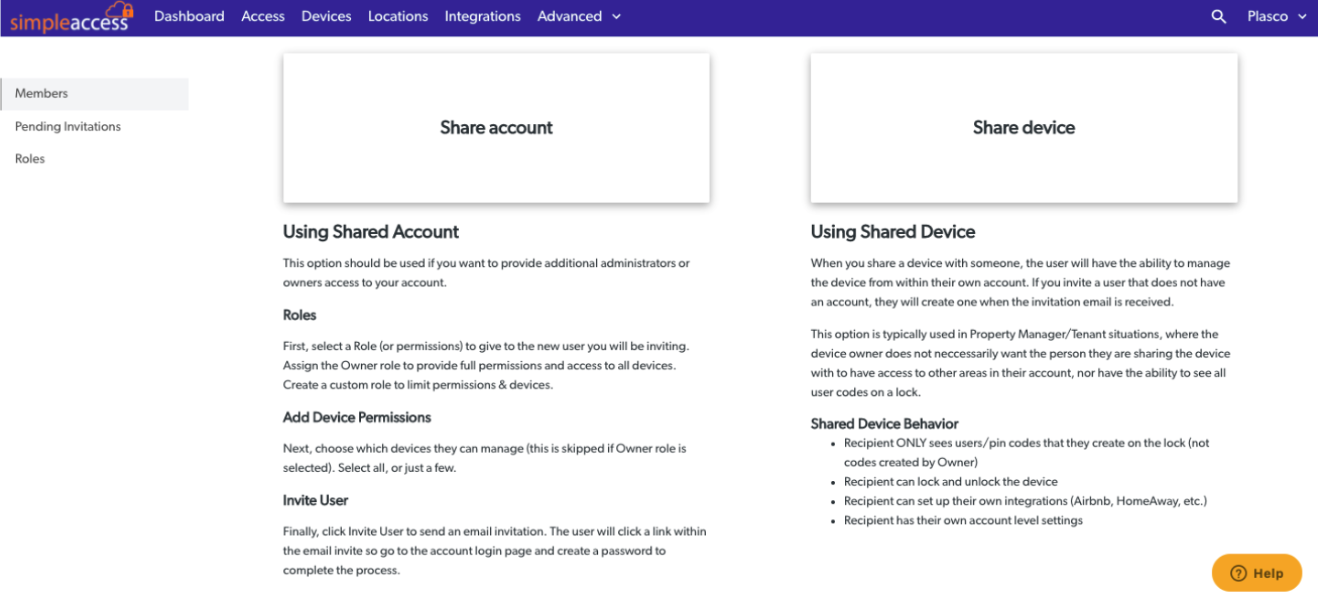 The Shared Account option should be used if you want to provide additional administrators or owners access to your account.
The Shared Device option should be used when you want the user to have the ability to manage a device from within their own account. If you invite a user that does not have an account, they will create one when the invitation email is received.
This option is typically used in Property Manager/Tenant situations, where the device owner does not necessarily want the person they are sharing the device with to have access to other areas in their account, nor have the ability to see all user codes on a lock.
If a user is given access to devices for a Location, for example, any device added to that location will be accessible to that user automatically.
Selecting Share Account will land you on a page where you'll need to add a valid email address, select the appropriate Role assignment from the drop-down, and select either the entire account or a specific location under "Add Device Permissions".

The only Role available to choose from initially will be Owner. You can customize any other role you would like to create and name it accordingly. This will allow you to customize what abilities the shared account member has access to. For more information on creating custom roles, please see our Permissions Explanation article.
____________________________________________________________________________________________________________
Selecting Share Device will land you on a page where you'll need to add a valid email address and Add Device Permissions for either the entire account, an entire location, or a specific lock/locks.

Roles
Selecting the Roles tab will land you on a page where you can see a list of current Role names and their associated permissions. From here you can edit these roles, add additional roles, or change the role's name. A role is essentially a set of permissions.

Clicking Add Role will give you the opportunity to add and name a new role and customize the permissions for this role.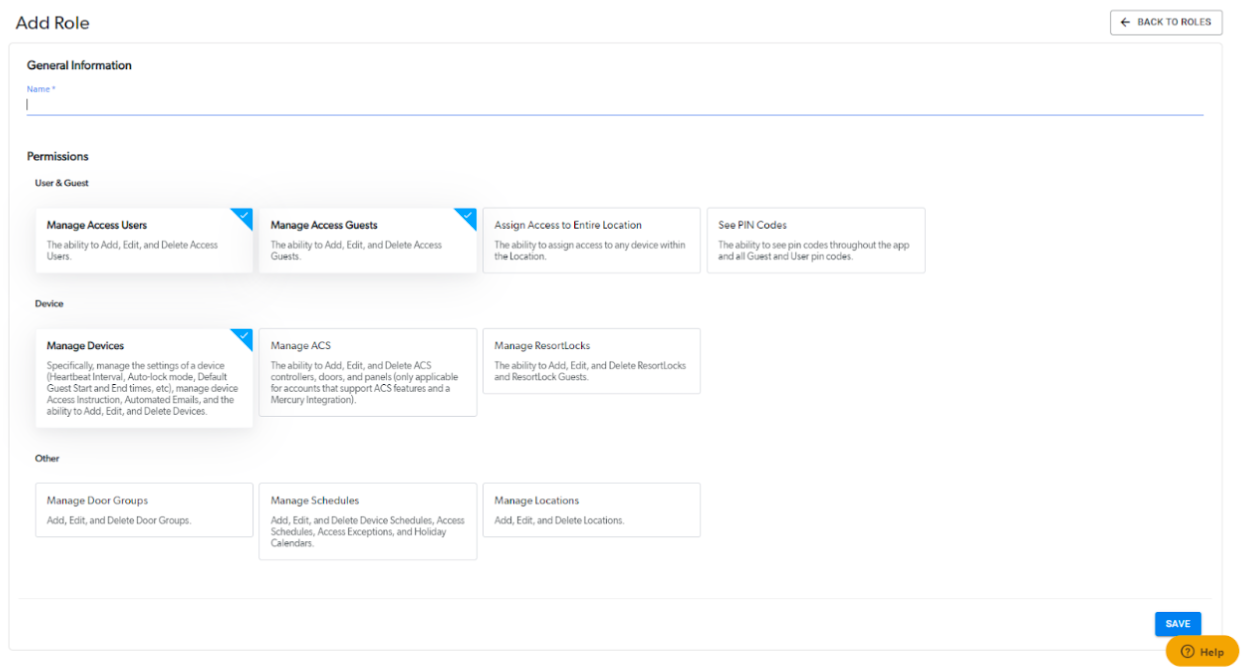 The list of permissions includes Manage Access Users, Manage Access Guests, Assign Access to Entire Location, See PIN Codes, Manage Devices, Manage ACS, Manage Door Groups, Manage Schedules and Manage Locations.
The word manage means: create, update and delete.
Additional information is available in our Permissions Explanation - Members and roles article.
Note: If you do not give permission to Manage Access Users or Manage Access Guests, Account Members can still VIEW (not create, update or delete) Access Users or Access Guests for all doors and locks that they are given permissions for within Device Permissions. If you do not want them to see these Access Users, do not give them permissions to manage those locks.
Some features require a high level of responsibility so there are no permissions for those, instead we give access to the feature if the user has an owner role on the account. The current features that are only manageable by owners are:
Manage account information

Manage billing

Manage roles and device permissions

Custom roles: Users can create an unlimited number of roles, specifying the name and the set of permissions that represent that role. These custom roles will not have access to permissions above only accessible to owners but can include all or a subset of the permissions listed below.
Primary Owner
Since an account can have multiple owners, only the primary owner (the person who created the account):
Is responsible for billing

Can delete the account
Sample Workflow
Rob signs up for an account

An account is created

He gets an owner role in this account

He is also the primary owner of this account since he created it

Rob creates the role HR Manager with permission Manage Access Users

Rob invites Denise to have the HR Manager role with the "Device Permission" at the "Denver Office" location level.

Denise receives an invitation email and signs up

Step #1 takes place for Denise's own account

Now Denise set up her account using the link in the invitation, she can create access users to the new employees and give them access to locks of Denver Office

Rob invites Nolan to also become an owner of his account

Nolan receives an invitation email and signs up

Step #1 takes place for Nolan's own account

Nolan creates his account using the link in the invitation and is then able to manage access to all account devices
Important Things to Note:
If the Shared Account member or Shared Device Recipient already created an account prior to the invitation being sent, once the invitation is sent it will not show "Pending"-- it will automatically be accepted.

Shared Account members do not need to pay for an additional subscription- their subscription is included on the Primary Owner's account

Shared Device Recipients are not required to pay for an additional subscription- their subscription is included on the Primary Owner's account

only on the Basic level plan.

If a Shared Device Recipient wants to take advantage of any of the more advanced features, they must subscribe and pay for that higher level subscription plan (Premium, Business, or Enterprise).

Shared Account members can toggle back and forth between their own account and the Primary Owner of the Shared Account. This is useful for individuals that manage multiple different properties. To toggle between accounts, click on your Account name --> Switch Account --> Toggle into the account you'd like to view.