Please see the Members and Roles overview article for additional information
Select Members & Roles (formerly called Permissions) from the drop-down in the upper right-hand corner of the SimpleAccess app.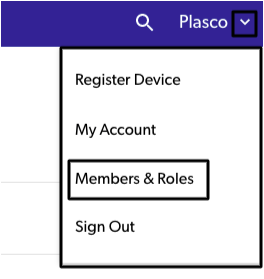 From the Members tab, you'll see a list of current members including their name, assigned role, and email address. You'll be able to edit the member's Current Device Permissions and Add Device Permissions by clicking the pencil icon.
When Adding or Editing a Role, the Permissions available to grant other users include:
Manage Access Users - Add, Edit, and Delete Access Users.

Manage Access Guests - Add, Edit, and Delete Access Guests.

Manage ACS - Add, Edit, and Delete ACS controllers, doors, and panels (only applicable for accounts that support ACS features).

Manage Devices - Specifically, manage the settings of a device (Heartbeat Interval, Auto-lock mode, Default Guest Start and End times, etc), manage device Access Instruction, Add, Edit, and Delete Door Groups

Manage Locations - Add, Edit, and Delete Locations.

Manage ResortLocks - Add, Edit, and Delete ResortLocks and ResortLock Guests.

Manage Schedules - Add, Edit, and Delete Device Schedules, Access Schedules, Access Exceptions, and Holiday Calendars
Note: If you do not give permission to Manage Access Users or Manage Access Guests, Account Members can still VIEW (not create, update or delete) Access Users or Access Guests for all doors and locks that they are given permissions for within Device Permissions. If you do not want them to see these Access Users, do not give them permissions to manage those locks.
Some features require a high level of responsibility so there are no permissions for those, instead we give access to the feature if the user has an owner role on the account. The current features that are only manageable by owners are:
Manage account information

Manage access instruction email templates

Manage billing

Manage roles, device permissions, and user invitations

Manage common doors

Manage the Guest Email Template

Manage the rental integrations, listings, and associated devices.

Custom roles: Users can create an unlimited number of roles, specifying the name and the set of permissions that represent that role. These custom roles will not have access to permissions above only accessible to owners, but can include all or a subset of the permissions listed below.