Setting up FAI (Fire Alarm Interface) Connection

This is only applicable when locking mechanisms are set up in Fail Safe mode.
This means, in its normal state, the locking mechanism takes power to lock, and removes power to unlock an access point.
Strikes usually come fail secure, but an adjustment on the strike body can move it to a fail safe state. If you adjust a strike to fail safe, you will also have to move the lock relay connection from Normally Open, to Normally Closed.
In this setup, one can also intercept one wire of the strike at the door with a normally closed pushbutton. Pushing the button will cut power and therefore unlock the door. For a pushbutton that does this for an allotted time or an infrared REX, the device itself would need to be powered with an independent wire run. This is usually required on entry doors to comply with Life Safety.
Fire Alarm Interface, or FAI refers to a property of a control systems power supply and distributor, in which a fire alarm control panel is wired into the power supply. When the fire alarm control panel activates, the power supply will shut power to specific zones of the power distributor. The power distributor is a small [red] board providing eight pairs of power connection zones.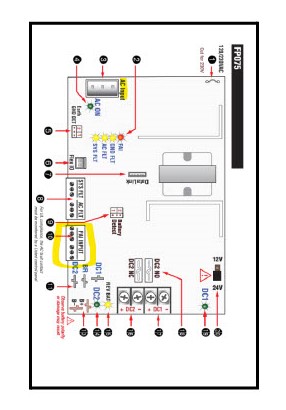 Above is a diagram of the FPO75 power supply (top-left board in the enclosure) and highlighted is the green FAI terminal block. The FPO 150 has the same connections.

Below are different methods of wiring up the FAI. the most popular are just a normally open or normally closed connection.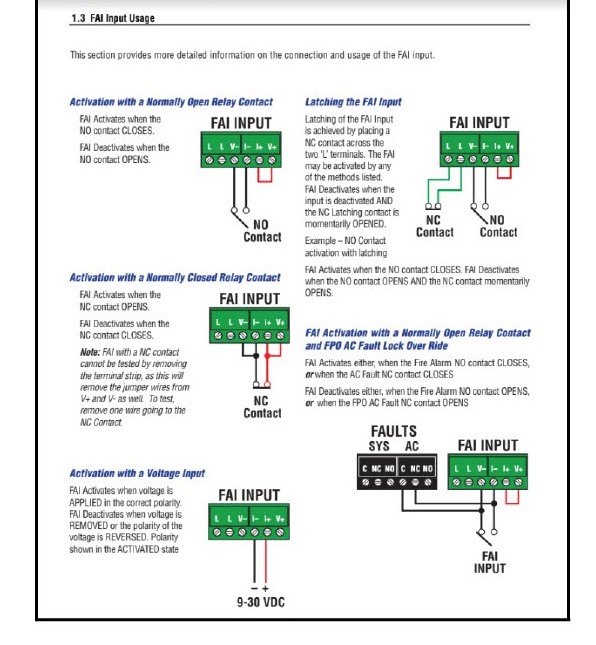 After this, the specific jumpers to the D8 zones, that are providing the lock power, need to be moved to activate when the FAI is activated: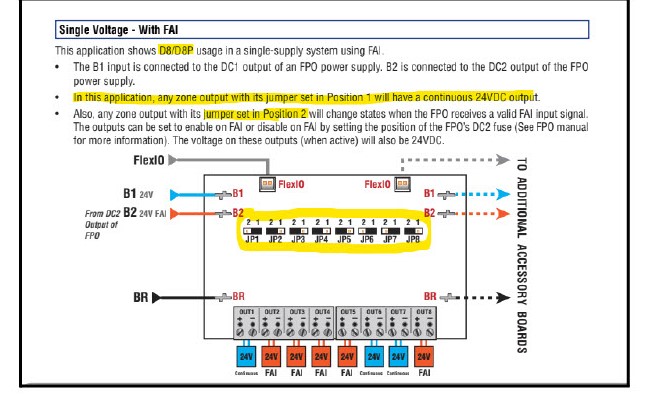 (voltage value is unimportant to the purpose of this document please disregard voltage values in the above image and concentrate on the FAI status under the voltage values.)